Mapo Tofu
SIMPLE MENU FOR 10 and 30 PEOPLE
"Mapa Tofu"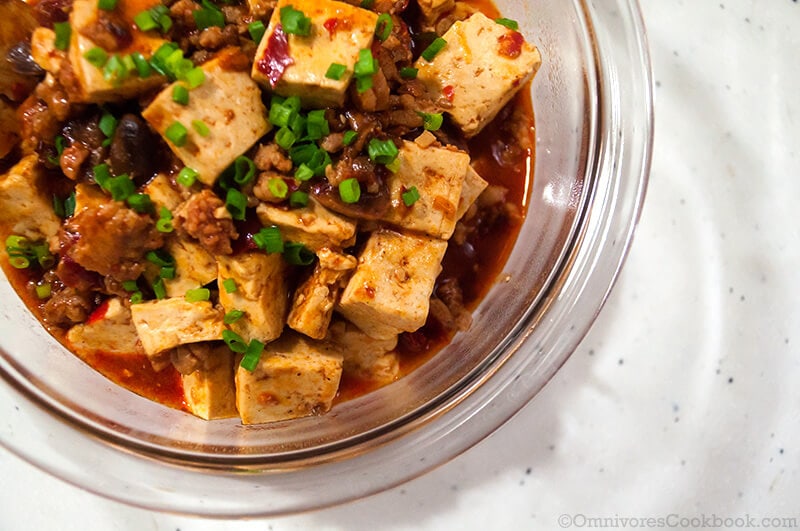 | | | | | | |
| --- | --- | --- | --- | --- | --- |
| | | | | | |
| (Estimate for 10 and 30 people) | | | | | |
SHOPPING LIST for Mapa Tofu









Chicken Broth (large can)




40 cans for 40 servings was too much. Try to find "SWANSON" brand (or other American brand)

- pulmulone brand "chigae yong" tofu ("soft tofu" - but it's firm)




- OR other brand (FIRM tofu)

2 bottles was too much for 40 servings

Ground Fresh Chili Paste (Sambal Oelek brand) - 18-19 OZ. jar




OR

Lee Keum Kee's Chili Garlic Sauce - 13 OZ.

I prefer the fresh chili paste




Buy already-peeled ones, in package
SHOPPING LIST for Green Beans
| | | | | | |
| --- | --- | --- | --- | --- | --- |
| | | | | | |
| | | | | | 1 bag from Trader Joes = 6 servings. 1 bag from Costco = 12 servings |
| | | | | | Buy already-peeled ones, in package |
| | | | | | |
| Clear Chinese rice cooking wine | | | | | 1 bag from Trader Joes = 6 servings. 1 bag from Costco = 12 servings |
RECIPE for Mapa Tofu (for 30 servings)
Mince garlic (10.5 cloves)

Finely dice green onions (1.5 bundles)

Cut tofu into bite size cubes (size of sugar cubes) and drain water
Stir fry the pork with 6 cloves of minced garlic, salt, pepper, & ginger powder.

Season to taste.

Drain the fat (if the meat is lean, there is not much to drain)
*Start the first batch with 2 1/2 boxes of tofu to get a feel of this dish

Use non-stick wok or non-stick pot; put on high heat

Pour 1 can of chicken broth (49.5 oz) and heat until it boils

Add 2 tablespoons of fresh chili paste

Add 2 cloves of minced garlic

Add 1/4 of the cooked pork) into the chicken broth

Add 4 oz of oyster flavored sauce (1/2 cup)

Add 1 teaspoon of sugar

Stir as it comes to boil

TASTE: based on its taste add more oyster flavored sauce or sugar or chili paste

Add corn starch mixed with water: start with 2 tablespoons of starch mixed with 4 oz of water

Keep on stirring: this is very important that it doesn't get lumpy

If it doesn't thicken enough, add another mixture of corn starch and water

When it comes to a boil, taste again. Cooking is all about tasting with your eyes and your mouth

When the sauce thickens and boils, add the drained tofu

Fold the tofu into the sauce in big strokes (meaning do not rapidly stir or the tofu will far apart)

Cook on medium heat until it is boiling and the tofu tastes piping hot. As you are cooking, keep on folding so that it doesn't stick but don't break the tofu!)

Serve the tofu with minced green onions sprinkled on the top as garnish.
*When reheating, you can microwave on the serving dish and then sprinkle the green onions right before serving.
RECIPE for Green Beans(for 30 servings)
Clear Chinese rice cooking wine
*Cook 2 Trader Joe bags (or 1 Costco bag) at a time
Turn on stove and add 2 tablespoon of oil to frying pan

Add 2 tablespoons of minced garlic and 2 tablespoon of Chinese rice cooking wine

When the garlic is cooked, add 2 bags of Trader Joes frozen green beans (or 1 bag Costco fresh green beans)

Add 4 tablespoons of oyster sauce and sprinkle some pepper

Continue to stir until it looks fully heated; taste.

If it not seasoned enough, add more oyster sauce

It is ready to serve when it tastes piping hot