7 layer dip
Quick Look_______________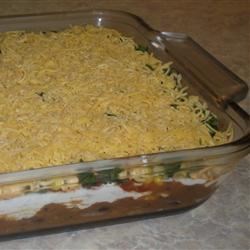 Here's an easy recipe that's perfect for post-Bible study snacks. It goes well with those huge $3 bags of tortilla chips at Costco and is an effective way to eat up extra tortilla chips before they get stale.
Prep time: 15 minutes
Cook time: 0 minutes
Difficulty: Very easy
Labor Intensity: You may want 1-2 people to help

20 servings

, adjust by 1.5x if your group tends to eat multiple servings.
Ingredients_______________
1 ounce package taco seasoning mix (about $1-2 at safeway)
16 ounce can refried beans (about $2-3)
8 ounce package cream cheese, softened (about $2-3)
16 ounce container sour cream (about $3-4)
16 ounce jar salsa (about $3)
2-3 large tomato (under $1)
1 bunch green onions (under $1)
6 ounce can sliced black olives (a few $)
2 cups shredded Cheddar cheese (about 8oz, $2-3)
3 avocados (optional, usually expensive)
Total: about $20.00
Directions_______________
Pour the beans on a 13x9 baking tray
[optional] cut avocado and mash. Add a dash of salt and pepper. Spread on top of bean layer
Mix the cream cheese and sour cream in a bowl. Add the taco seasoning and mix together.
Spread seasoned cream on top of the beans.

Add a layer of salsa.

Chop tomato and add a layer on top

Chop green onions and sprinkle on top

Drain and sprinkle black olives over the pan

Top with Cheddar cheese.
Tom's Tips and Tricks_______________
You can add the 7 layers in any order you wish. If you want to double the recipe, you can use a large aluminum tray instead.

[Possible side dish] Serve with tortilla chips.