Banana Bread
Quick Look_______________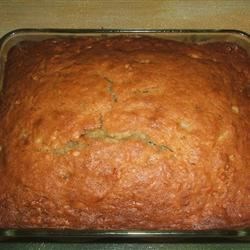 Sweet, moist, dense banana bread. Ok, it's not really like bread, but dense like a moist brownie, but banana flavor! Great if you have over-ripe bananas that you need to use. Top with banana pudding!
I realized I didn't have the recipe right the first time. The banana to flour ratio was wrong and it was too dry. I corrected and updated the recipe.
Prep time: 15 minutes to mix ingredients
Cook time: about 60 min
Difficulty: easy
30 servings

Ingredients_______________
1 cup butter, softened
1.5 cups brown sugar
4 eggs beaten
5 cups mashed banana (should be 1-2 bunches)
3.5 cups all-purpose flour
2 teaspoons baking soda
1/2 tsp vanilla
1/2 tsp salt
Total: $ not much
Directions_______________
Preheat oven to 350 degrees F
Grease one or two 9x13 inch pan (or iron skillet)
Cream butter and sugar until smooth.
Beat in eggs, then bananas and vanilla.
Add flour, baking soda, and salt, stirring just until moist.
Pour into prepared pan and bake at 350 degrees F (175 degrees C) for about 1 hour (or till toothpick comes out clean).
Broil for 3 minutes under high heat prior to removing to give the top a nice brown color
Remove from pan and let cool.
Top with Banana pudding (optional)
Tom's Tips and Tricks_______________
Make sure you don't over beat the flour mixture. It will form gluten strands and will make the bread tougher and it will seem dry.
I really like making this with an iron skillet. The heat capacity properties are unmatched. Just heat a lightly greased iron skillet until it starts smoking and pour the batter on. Then place in oven. It makes a wonderful, crunchy crust.
As with most baked goods, I like to broil for 3 minutes before I remove from oven so that the top gets a nice cooked crust. In scientific terms, it's called a maillard reaction where the sugars and the proteins cross link under high heat and give the toasted brown color, flavor, and smell. High, direct heat (broiling) is very important in getting a nice top crust, I do it in most of my cooking as a finisher. Watch it every 30 seconds because it burns quickly under the broiler!