Peaches and Cream Pie
Quick Look_______________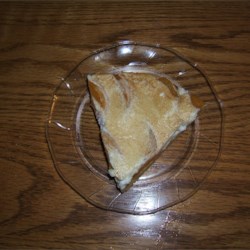 The following recipe comes from David Dip. The holiday season is quickly approaching and with family gatherings and other special dinners it's nice to have good desserts. This recipe was used for many potlucks and has been a hit evertime. It doesn't seem too difficult from the look of it.
Prep time: 20 minutes
Cook time: 30 minutes
Difficulty: Easy
Labor Intensity: Could do by yourself.

1 pie = 8 servings?
Ingredients_______________
3/4 cup all-purpose flour
1 teaspoon baking powder
1 (3 ounce) package non-instant vanilla pudding mix
3 tablespoons butter, softened
1 egg
1/2 cup milk
1 (29 ounce) can sliced peaches in heavy syrup, drained and syrup reserved (you can buy peaches in lite syrup too, but don't buy the peaches in syrups flavored from other fruits)
1 (8 ounce) package cream cheese or Neufchatel cheese, softened
1/2 cup white sugar
1 teaspoon ground cinnamon
Total: fairly cheap, you should have mostr ingredients already.
Directions_______________
Preheat oven to 350 degrees F (175 degrees C). Grease sides and bottom of a 10 inch deep-dish pie pan.
In a large mixing bowl (bowl #1), whisk room temperature butter until it's has a smooth consistency. Then mix in flour, baking powder, and pudding mix. Mix together to get a semi-homogeneous mixture.
In another mixing bowl (bowl #2), use a hand mixer or a whisk to beat cream cheese or Neufchatel until 'fluffy' (to a smooth consistency is fine). Then beat in sugar and 3 tablespoons of the peach syrup. The syrup makes the mixture more liquid-y and easier to mix. Then mix in 1 tsp of ground cinnamon.
Mix together ½ cup of milk and 1 egg and pour into bowl #1. Mix together by folding the dry ingredients over the wet ingredients. Don't over-mix; lumps are okay.
Pour contents of bowl #1 into pie pan and place peach slices on top of this in any arrangement you want. Then pour contents of bowl #2 into the pie pan making a concentric inner circle with a radius of 1 inch smaller than the pie pan. (so the outer crust can rise and brown)
Top it off with a sprinkle of ground cinnamon.
Bake in preheated oven for 30 to 35 minutes, or until golden brown. Let cool before serving
Tips and Tricks_______________

I usually make double this portion at one time, so I like to have a mixture of cream cheese and Neufchatel.
The original recipe had ½ tsp of salt, but I don't think it adds to the flavor. It might even turn out too salty if you don't take into account types of salt. So I just don't add it all.
I like to microwave my cheese for 10-15 seconds in the microwave to soften it up before beating.
Instead of using a whole 29 ounce can of peaches for one pie, I usually split the can amongst 2 pies or use a 16 ounce can per pie instead.